Update September 3, 2011

-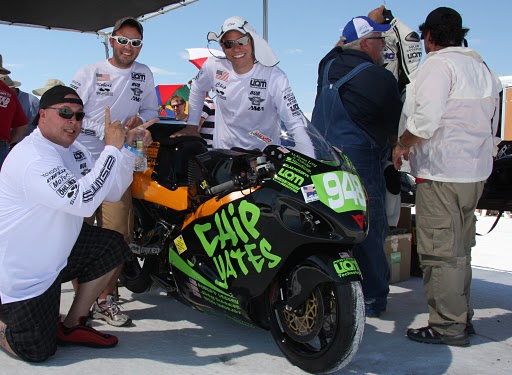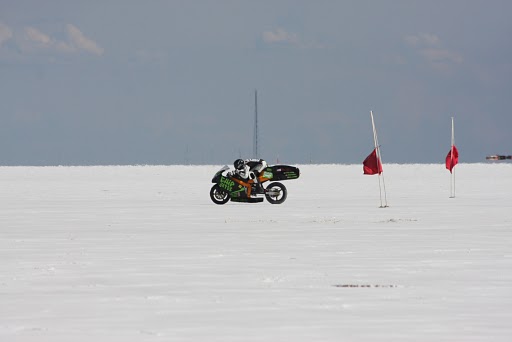 Chip
YatesSetsEightOfficialLand Speed Records on the Bonneville Salt Flats, Retires
· SWIGZ® Electric Superbike sets an astounding eight land speed records in one week
o Four Official FIM World Records
o Four Official AMA National Records
· Peak speed of 200.7 MPH achieved despite numerous setbacks
· BUB Motorcycle Speed Trials Bonneville event marks the end of the road for the famed 258hp all-electric superbike
· Chip Yates retires from professional motorcycle roadracing after powerful final performance
Bonneville Salt Flats, Utah, USA, September 3, 2011-----American superbike rider and electric vehicle pioneer Chip Yates and team electrical engineer Robert Ussery have written the final chapter of the SWIGZ.COM Electric Superbike in thrilling fashion on the legendary Bonneville Salt Flats.
In the last official event of SWIGZ.COM Pro Racing USA's 2011 electric racing and technology demonstration campaign that has seen success in WERA Motorcycle Roadracing, the Mojave Mile Shootout, Fastrack Riders Auto Club Speedway, and the Pikes Peak International Hill Climb, Chip Yates and his all-volunteer team have claimed four Official FIM World Records as well as four official AMA National land speed records in their rookie attempt at land speed racing.
TABLE OF SWIGZ.COM's FOUR NEW FIM WORLD RECORDS:
Overcoming a variety of obstacles including a chain breaking at 173mph, underperforming lithium-ion batteries, a half-day of canceled racing for high winds, incomplete battery pack recharges from the strict 2-hour FIM turnaround rules, and a head-on collision at over 150mph with a mile marker that broke Chip's helmet, windshield and fairings, the SWIGZ.COM Bonneville Team of Robert Ussery, Jason Fairclough, Andrew Roberts, and Randy Hall regrouped to deliver a nearly impossible result.
CHIP YATES: "What a way to retire! I had planned to stop racing motorcycles after Bonneville and this result makes it feel like we're really going out at the top of our game, even beating a record held by the legendary Max Biaggi - and I guarantee this is the only time I could beat Max at anything! I want to thank UQM Technologies for stepping up to help us achieve our dreams and providing us with the best electric motor money can buy."
The SWIGZ Team went into the BUB Motorcycle Speed Trials with the objective of beating the top speeds set by Lightning Motorcycles during the recent S.C.T.A. Speed Week event in addition to attempting to set four Official FIM World Records. But after some early test runs revealed problems with battery performance, the mission was changed to solely focus on trying to set the Official FIM and AMA Records.
ROBERT USSERY: "When it became clear to us that we wouldn't be able to beat Lightning Motorcycle's unofficial record of 215.907 because of the our batteries compounded by only having 45 minutes to try to recharge them between runs because of the tough FIM impound rules, we directed all our efforts to going after the FIM and AMA Official Records in the four key electric motorcycle classes. Not only was it incredibly fun, but pushing for the records allowed us to demonstrate the flexibility of our electric superbike and the dominating power of our UQM Technologies 258hp, 400 ft/lbs liquid-cooled electric motor. I wish we could have passed Lightning's amazing top speed, but I am over the moon with what we achieved on our first try out here. This is the same bike that Chip rode to 2nd in class and a record-setting result at Pikes Peak, did a 1:37 at Auto Club Speedway, beat 1,000cc superbikes in a straight line at Mojave Mile, and took two podiums in the WERA Heavyweight Twins Superbike and Superstock gas bike races in January, so it's been a pretty versatile technology platform from an engineering standpoint."
Chip and the team have not yet publicly announced their next move, but will continue to cheer on the other top electric motorcycle teams such as Mission Motors, Lightning Motorcycles, Brammo, Zero Motorcycles, MotoCzysz, KillaCycle, and Roehr as these companies carry the ball forward in advancing the technology and public perceptions of electric powertrain technology.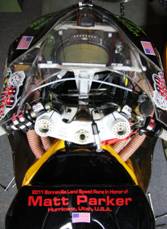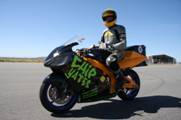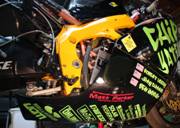 Chip Yates to AttemptOfficialFIMWorldLand Speed Records at BUB Motorcycle Speed Trials, Bonneville Salt Flats, Utah
August 27th – September 1st, 2011
Orange County, California, August 12, 2011-----American superbike rider and electric vehicle pioneer Chip Yates has entered the SWIGZ.COM Electric Superbike in its last official event of the team's 2011 racing and technology demonstration campaign that has seen success in WERA Motorcycle Roadracing, the Mojave Mile Shootout, Fastrack Riders Auto Club Speedway, and the Pikes Peak International Hill Climb.
CHIP YATES: "The BUB FIM / AMA Speed Trials at Bonneville is a fitting final event for the fastest, most powerful, and most technically advanced electric superbike on the planet. I plan to go out in style and deliver the public some eye-watering results as a tribute to this incredible machine and the pride of American ingenuity that it represents."
Yates will be attempting to set official FIM World Records on the Bonneville Salt Flats in Utah during race week, weather permitting. In the event of bad weather or catastrophic technical problems, the team will consider entering another, similar event to demonstrate top speed before retiring the superbike from active competition.
Media members are encouraged to attend by contacting:
Linnea Johnston
BUB Racing, Inc
e-mail: linneaj@bubracing.com
Phone: (530) 272-4310 (Hours 8-3 PST, Tues-Fri)
Website: www.bubspeedtrials.com
Chip's all-volunteer team has been busy preparing for this special event. Key race engineer and electrical guru Robert Ussery will lead the SWIGZ.COM Pro Racing USA team on the salt during race week. In preparation for the FIM high-speed record attempts, Chief Engineer Ben Ingram has made a number of changes to the superbike including aerodynamic enhancements, wheelbase extension, and power. Working together with UQM Technologies (www.uqm.com), the output of the liquid-cooled PowerPhase electric motor has been raised to an incredible 258 horsepower, an increase of 18 hp over Chip's record-setting Pikes Peak bike.
The team's Bonneville entry and record attempting runs are being done in memory of Matthew Parker, a 14-year-old Utah native who tragically lost his life July 28th on LakePowell. Matthew is the nephew of Chip's manufacturing leader, Chris Parker, owner of CPR Fabrications of Costa Mesa, California. Chip will carry special red decals on the tank and lower fairings to honor Matt, in addition to carrying the team's American flag during the high speed runs, which will be presented to Matthew's parents, Mike Parker and Denise Combs Parker in Hurricane, Utah immediately after the race week. Facebook pages entitled "Remembering Matthew Parker" and "The Matthew Parker Project" have been established to honor his memory and the public is encouraged to visit and "Like" these wonderful tribute pages.
A formal press release along with high resolution photos and video will be issued by SWIGZ.COM Pro Racing USA immediately following the event, on or about September 1, 2011. Immediate updates will be available as the race week progresses via Twitter: chipyates89
Chip's Electric Superbike Sponsors: UQM Technologies // McKenna, Long & Aldridge LLP // Eidos LLC // Yoyodyne // Ohlins USA // MoTeC Systems USA // Dainese // SolarReserve // Manzanita Micro // MicroStrain // Performance Machine // CPR Fabrication // Catalyst Racing Composites // Stompgrip // Scottoiler // Thermosman Suspension

For more information, please contact: racing@swigz.com