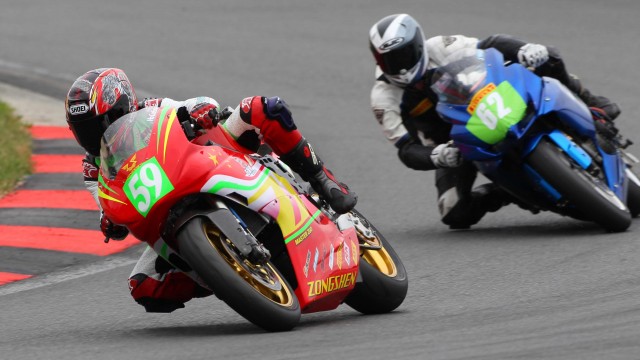 From the eRoadRacing web site:


Rain Didn't Stop Play For #59 Ho Chi Fung!
With a back ground of heavy rain clouds the FIM eRoad Race started this afternoon at 2:40.
All 8 bikes took to the grid for the race having all qualified yesterday afternoon but #43 Rhalf Lo Turko had bad luck as his bike chocked before the warm up lap. Pushing it to the pit-lane to the waiting magic hands of chief engineer Justin Vant'Hoff and the Agni Supremo Cedric Lynch; meant the team got it working citing a lose connection to the throttle. This meant Rhalf had an uphill struggle to catch up to the leaders before the race had even started, and his day just got worse. The gremlins affecting his bike were not however totally solved and caused the power to his bike fluctuate, resulting in a jerky movement. Ralph retired from the race in lap two. "When the bike was running, it felt really good and the best it's been all weekend and I was really excited about catching the field but the problems reoccurred pretty quickly and with the bikes sensors going crazy I didn't want to take the risk." On the opposite side of the spectrum Peter Linden on the Renegade Z, Zero S machine, had a flying start and despite starting from 6th position manages to take the first corner in pole position… The Zero packs a punch for a little bike and although it can't compare to the #59 Zongshen AC machines power on the straights where it lost its lead, it surprised some race fans how quick and fun it could be. "I love this little bike, its my favourite electric bike so far to race. The weekend has been so much fun and i have really enjoyed being involved"
#59 Zongshens Ho Chi Fung had had a strong weekend with a clearly powerful AC bike. Starting in pole he took a comfortable lead and had an almost perfect race. "Racing here was fun but I know the bike is capable of so much more. After the crash in Valencia, our strategy is to finish a safe race rather than pushing the limits. We have been working on improving the bike with one eye on the World final where will meet the big American teams but with the rain and track conditions this afternoon, it wasn't worth taking too much of a risk here.
I am very happy with the bikes performance. My team have worked hard to prepare the bike and it worked really well. I am very happy to take home the winners trophy for all of them"
His team mate #91 Su Rong Zai completed a great weekend for the team by handing them the second place prize " I really enjoy racing for my team, the bike is working really well and did my best to keep Sam West on the Agni machine from over taking me. Once I got past him mid-race I thought I would just open it up and get some distance between us but he kept on my tail section till the very end. It was a fun race and i am glad i managed to hold onto the second place."
In deed it was a close race with Sam West finishing a very close 3rd place.
"Justin and the mavizen team along side Cedric Lynch have worked really hard prepping the bike for me all weekend and they made so many improvement to it that is actually felt like a proper race bike I am happy to be taking home 3rd place; I tried hard to chase down Ho Chi Fung and stuck behind him for a while but by lap four it started raining pretty hard and the tyres weren't working on the wet track. The championship points is what I am here for so I am happy with the result as I am here for the season with my eyes on the main prize."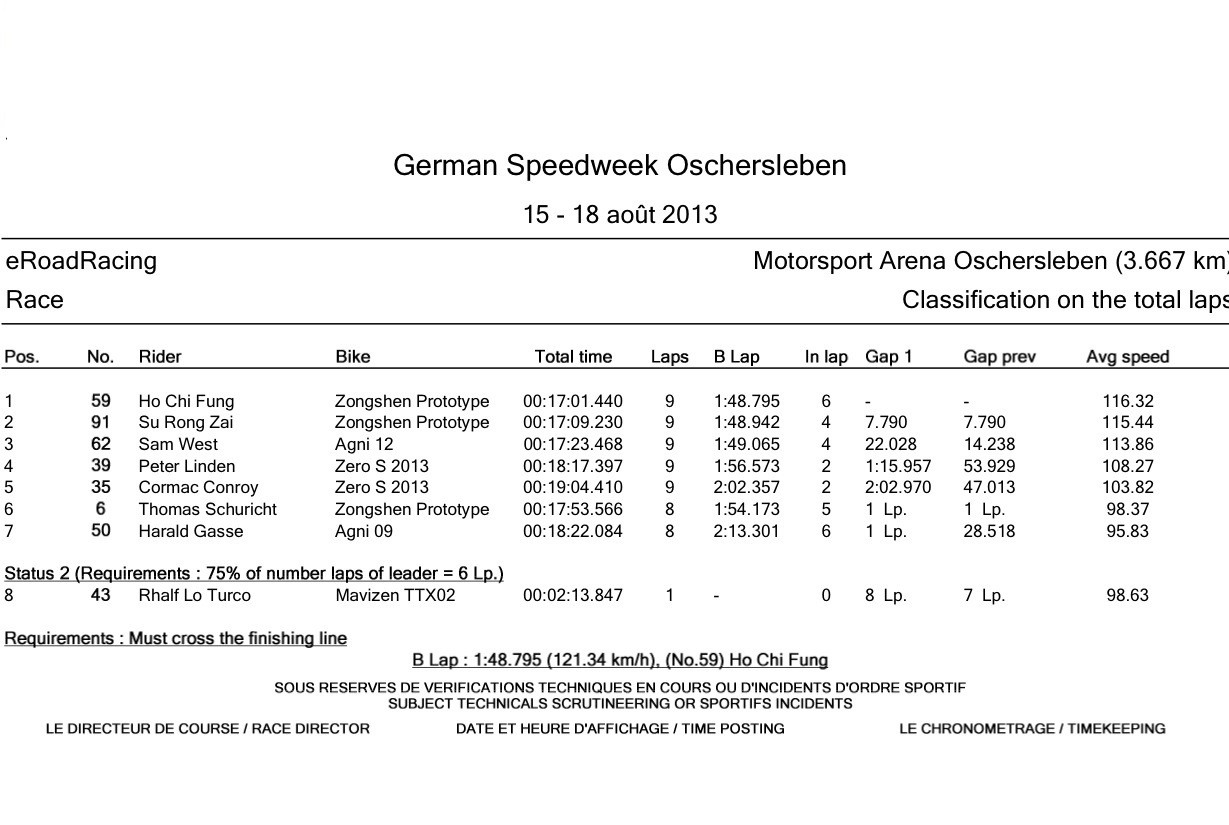 Back to FIM eRoadRacing World Cup main page
Back to Home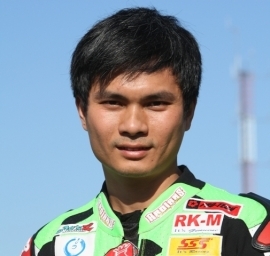 Press release from eRoadRacing:
Ho Chi Fung takes Pole for tomorrows race in Oschersleben!
Session for FIM eRoad Race Q2 Oschersleben
The second and final qualifying session for the third race in the European season of eRoad Racing has just taken place here in Oschersleben during German Speedweek. As expected Ho Chi Fung #59 for Zongshen racing has taken pole position. The machine and man continue to impress with an improved fastest lap time of 1:44.870. So far this weekend has proven to be easy for this unassuming racer.
Hot on his heels is British racer Sam West #62 posting a time of 1.50.274″The second qualifying went well, after a breakdown in the first session the pressure was on to get a lap in just to qualify for the race. I played it safe for a few laps and once I knew we had a qualifying time in I gave the bike more stick, pushing harder to see what the Agni bike was capable of. The engineers had fitted some new components and the power was significantly better giving improved acceleration right through the rev range. I ran for the full session with some decent lap times and much better consistency than we'd achieved before, the Oschersleben circuit suits the electric bike and it was great fun pushing the corner speed through the fast sweeping corners. There is still more power to come from the bike and the team will be doing what they can to get the best out of it. I'm pleased for my team mate Harald who put in some good lap times, hopefully in the race tomorrow we will have a good ride and get on the podium for Team Agni."
Fellow BSB Racer Rhalf Lo Turko also had vastly improved lap times but had more struggles with his bike. My team has worked really hard to prep the bike after all the controller issues yesterday. They want to give me the best chance of a podium but there is still much to be done. At the moment, it is not consistent but i know the bike can do more and am confident of a good race tomorrow."
It was a warm welcome that awaited Thomas Schuricht #6 formally of Muench Racing team. Sadly his new motorcycle is simply not ready but he was fortunate enough to be offered a ride from factory team, Zongshen Racing. "Today was not my first trip on a Zongshen. Two weeks ago I was driving a dirt bike off road! That was a lot of fun. Today, on the track in Oschersleben, I was very surprised how good the handling can be on the Zongshen E-bike and how easily it moved about the course. I'm glad to have the opportunity this weekend to be able to race for a professional team. The bike was perfect for Q2 and i am very happy with my time of 1:54.239 given I didn't have any practice time at all." When asked how he prepared for the day Thomas continued: "… I felt very comfortable from the beginning … I had planned to complete the race distance of 9 laps to go and had then in the penultimate round of the fourth Takeoff retracted. With this result, I am very pleased, considering that the other teams are training for two days on this track. I would now like to talk to thank my team who have worked hard to prep the bike. I hope tomorrow's race to deliver a good performance for them."
With a best lap time of 2:08.093 Haralde Gasse was 4 seconds a lap faster in the Qualification session so he too was very happy to be able to race tomorrow. "this is so much fun and even more exciting for me because I am racing an iconic machine. The Agni motorcycle that won the very race in the Isle of Man 2009 is an incredibly special machine. That it runs so well still with the same batteries and other parts proves these ebikes are not only fun to ride and practical but also have longevity."
Back to FIM eRoadRacing Main Page
Back to Home