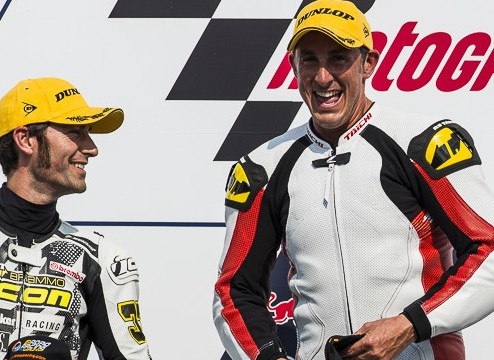 From the eRoadRacing web site:


Shane Turpin Makes History In The Brickyard!
Shane Turpin won the first-ever, eight-lap FIM eRoad Racing World Cup race at the historic Indianapolis Motor Speedway this afternoon, beating team mate Eric Bostrom by 13.733 seconds. Kenyon Kluge finished third.
SHANE TURPIN (No. 14 Icon Brammo Brammo Empulse RR, winner): "I got a little bit of a lead, and all I could think about was, "Man, just keep it, maintain and keep it steady,' and I kept looking over my shoulder to see where [runner-up Eric Bostrom] was. I just wanted to finish this time. Laguna Seca kind of bit me, and the bike shut off. We maintained a good lead and brought it home. It was very exciting. I was hammer down. All of us are like that. We just want to win. The bottom line with the Brammo team is incredible. Anything I ask them to do – bike, setup. anything – they fix it. We have just been gelling very well, and obviously it shows."
ERIC BOSTROM (No. 32 Icon Brammo Brammo Empulse RR, second): "Shane (Turpin) showed up fast, and neither of us had a real lot of laps around this track. The bike was really fast, 160-plus (mph) on the front straight. I got through the turns well, but I wasn't able to get comfortable here. We took a little gamble in our setup for the race. Shane had us beat from the time we hit the asphalt. The team did a fantastic job; we didn't have a hiccup all week long." (About historical impact of race): "This is the place that bears the name Gasoline Alley, so it's kind of ironic that we're running around on batteries. It's an incredible place for this team to be here at such a famous circuit and perform in front of the same crowd that they have for MotoGP and race cars here. It was incredible. My first lap down the frontstraight, I was just filled with emotion: Wow! I'm racing in the king's quarters."
KENYON KLUGE (No. 96 K Squared Racing Zero S, third): "I was third place overall but first place in the eSuperStock division. All the other bikes (except first and second place) out here were stock bikes with minimal changes, just bodywork, throw $1,000 into it after taking it off the showroom floor. We think it is really historic to be able to race a bike that the average buyer could go out and buy and do the same times we're doing. This was my first time here at the course, so I had to learn it. It was a little tricky, some of the tight switchbacks combined with the long straightaway. I think I got into the flow of it in the race."


The Grid is set for the second American round of the eRoadRacing World Cup:
| | | | |
| --- | --- | --- | --- |
| # | Rider | Motorcycle | Time |
| 14 | Shane Turpin | Brammo Empulse RR | 1'54.895 |
| 32 | Eric Bostrom | Brammo Empulse RR | 1'55.389 |
| 96 | Kenyon Kluge | Zero S | 2'08.664 |
| 28 | Ted Rich | Zero S | 2'10.328 |
| 64 | Jeremiah Johnson | Zero S | 2'10.675 |
| 24 | Elian Carpenter | Zero S | 2'13.435 |
| 93 | Shelina Moreda | Brammo Empulse TTX | 2'15.675 |
Official press release from eRoadRacing World Cup: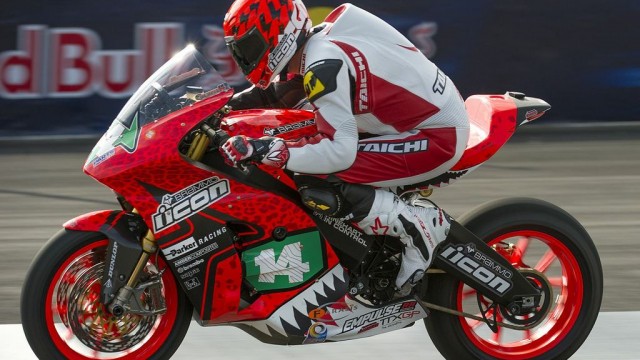 #14 Shane Turpin won pole for team Icon Brammo at IMS
Shane Turpin won the pole for the FIM eRoadRacing World Cup race with a top lap of 1:54.895 on his No. 14 Icon Brammo Brammo Empulse RR.
SHANE TURPIN: "It was amazing. I've never been to the Brickyard. The track is crazy, nothing like anything I've ever been on. Being on the electric bike here for the first time was unbelievable, and I'm so happy to have been a part of this whole new revolution. Everything really is the same as a regular motorcycle. The only thing different is I'm not shifting the bike. It's quiet, but I'm making motorcycle noises in my helmet because the noise is gone. We raced at Laguna Seca, and I broke the track record for electric bikes. This system is just taking off, getting better and better."

Back to eRoadRacing World Cup main page
Back to Home