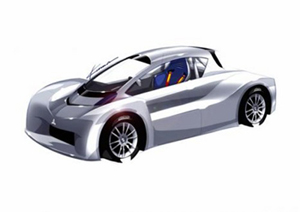 Mitsubishi Enters Dazzling i-MiEV Prototype Electric Auto In Pikes Peak International Hill Climb As Division Grows
Colorado Springs, March 1------Electric autos are the rage this year at the 90th Pikes Peak International Hill Climb.
There are eight autos entered in the Electric Division for the July 8 Race to the Clouds in Colorado Springs, including the defending champion, Japan's Ikuo Hanawa, who will drive a 2011 Summit HER-02 this summer.
The latest is the official entry my Mitsubishi Motors, which will enter the i-MiEV Prototype. It's based on MMC's all-electric i-MiEV model, the first 100% electric vehicle (EV) to go into mass production and is already on the road in Japan, Europe and North America, with plans to expand to other markets.
The i-MiEV Prototype will be driven by Japan's Hiroshi Masuoka, in many parts of the world known as a legendary race driver who, during the course of decades of racing success, took on the brutal Dakar Rally 21 times, winning it consecutively in 2002 and 2003, driving Mitsubishi Pajero and Pajero Evolution models respectively.
The i-MiEV Prototype will use the same EV components as the current production i-MiEV. MMC will use the data obtained through its participation in the event to enhance the durability and reliability of pure EVs and plug-in hybrid EVs which it will be bringing to market in the near future.
In addition to MMC's participation in the race, engineers from MMC's development division as well as from its partner manufacturers of batteries, motors and other EV components will be sent to the event to collaborate closer on the sharing of technology and knowhow for the purpose of further boosting MMC's EV development capabilities.
About Mitsubishi Motors
Mitsubishi Motors Corporation was established in 1970 and is one of the few automobile companies in the world that produces a full line of automotive products ranging from 660-cc mini cars and passenger cars to commercial vehicles and heavy-duty trucks and buses. The company also operates consumer financing services and provides this to its customer base. For more information, please visit www.mitsubishi-motors.com
Advance tickets are on sale for the race now at:www.ppihc.com
The popular Fan Fest in downtown Colorado Springs, which attracted more than 36,000 fans last summer, is set for Friday evening, July 6.