Official Pikes Peak International Hill Climb Press Release: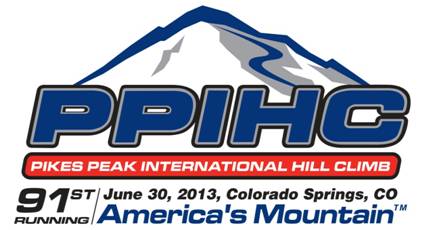 Rod Millen Showdown With Monster Tajima In Electric Division Highlights The 2013 Pikes Peak International Hill Climb
Colorado Springs, February 11-------- A battle between two former Kings of the Mountain in the suddenly-loaded Electric Auto Division will highlight the 91st running of the Pikes Peak International Hill Climb on June 30.
Eleven new records were set last year at the second-oldest motor sports event in the USA behind the Indy 500, the first edition contested on the fully-paved 12.42 mile course with 156 turns that begins at 9,390 feet and finishes on the summit at 14,110 feet, where the air is rare.
The event's growing international prestige is again evident this year with entries from France, Italy, Japan, Latvia, Sweden, Brazil, Canada, Great Britain, Hungary, Czech Republic, Poland and Belgium.
The showdown in the Electric division will feature a pair of veteran drivers who have a combined scoreboard of 17 wins on America's Mountain, New Zealander Rod Millen and Japan's Nobuhiro "Monster" Tajima.
Tajima, who will turn 63 two days before the race, will be again driving his Tajima Motors E-Runner, which was forced out of the race last year when Tajima developed a small fire aboard the electric vehicle. The Japanese driver, a fixture in the event, has won the Unlimited division eight times, and was the first driver to crack the ten-minute mark when he clocked a 9:51.278 in winning the title in 2011. It was his sixth straight win in the Unlimited field.
Millen, 61, will be making his debut in the Electric division, driving the Toyota TMG EV P002 that won last year's Electric title when it was piloted by Japan's Fumio Nutahara.
Nutahara (Hokkaido Japan) will be back himself in an effort to defend his Electric title, this time driving an auto that is yet to be determined by the 2006 Monte Carlo Rally PWRC Champion. He established the all-time record in the Electric division last year with his time of 10:15.380 in a 2012 Toyota Motorsport Gmbh.
Rod Millen has won nine titles on Pikes Peak, including five Unlimited crowns, the 2011 Time Attack 2WD crown, and other triumphs dating back to 1989 in Pikes Peak Open, Pikes Peak Production, and High Performance Showroom Stock divisions. Of those, only the Pikes Peak Open division is still on the card.
The loaded Electric field also includes the 2010 and 2011 champion, Japan's Ikuo Hanawa, no stranger to the twists and turns of the rugged, fully-paved 12.42-mile course to the summit of Pikes Peak. He will be behind the wheel of a Summit HER-02 vehicle.
Rhys Millen (Huntington Beach, CA), Rod's famous son, returns to the Peak, this time in the Unlimited division, driving a 2013 Hyundai PM58OT. Millen set the all-time mark on Pikes Peak last year in winning the Time Attack division with a clocking of 9:46.164.
Millen has nine Pikes Peak crowns to wear, Time Attack titles in 2007, 2008, 2009, and 2012. He also triumphed in the old High Performance Showroom Stock division in 1997, 1999, 2000 and 2001. He also won the Pikes Peak Open division in 1992.
Veteran Paul Dallenbach (Basalt, CO) has teamed up with Rhys Millen this year and will be the prohibitive favorite in the Time Attack division, driving Millen's Hyundai Genesis Coupe that set the all-time speed mark last year. Dallenbach has captured titles in the Open Wheel division in 1993, 2003, 2004, 2007, 2008 and 2009 to stamp himself as one of the most accomplished drivers on the Peak.
"We're certainly proud to renew our successful partnership with Rhys Millen Racing to take on the unique challenge of international motorsports known as Pikes Peak," said Steve Shannon, vice president, marketing, Hyundai Motor America. "Last year's all-time world record, set by Millen in the production-based Genesis Coupe, was a defining milestone in Hyundai's quest to build thrilling and durable rear-drive performance vehicles that are as capable on the road as they are in the rigors of competitive motorsport."
Last year's Unlimited division winner, veteran David Donner (Colorado Springs), is entered in the Time Attack division this summer. He's won the Open Wheel division three times, 1991, 2002 and 2005 and is the latest in the legendary line of the Donner family that has raced and won on Pikes Peak – Robert Donner, Robert Donner, Jr., Robert Donner III and David.
Spencer Steele (Aurora, CO), will be back on the hill again this year. He won the Open Wheel division last year with a clocking of 4:13.240 on a course that was shortened by the late afternoon inclement weather near the summit of Pikes Peak.
Another driver back to defend his title is Rick Knoop (Laguna Beach, CA), who won the Exhibition division and Rookie of the Year honors last year with a clocking of 10:56.240. Knoop, a 34-year racing veteran for major factory teams at Daytona, LeMans, Sebring, Monza, Watkins Glen, LimeRock Road, Atlanta Riverside, Laguna Seca, Riverside and other major races is moving over to the Pikes Peak Open division this time.
Doug Siddens (Cedar Park, TX), who won the Exhibition Powersport auto division last year, has moved up to the loaded Unlimited division and will be challenging the Peak in a 2009 Polaris RZR-X.
The Motorcycles
Jason Archuleta (Colorado Springs) will return to defend his 250cc division title on his 2005 Yamaha YZ250 bike. He won last year with a clocking of 11:41.015, which set the all-time record for the 250 division.
One of the motorcycle division's all-time stars is coming back to the Peak this year. Davey Durelle (Elizabeth, CO) will race in the 450 cc division on a 2009 Honda CRF450 bike. Durelle won the 450 division in 2011 and has a total of 16 championships on the Peak in divisions that include 250, 450, 500, and 750cc.
Last year's 450cc champion, Travis Newbold (Wheat Ridge, CO) is entered again after taking the division crown and setting the all-time division record of 11:06.618. He'll be on a 2005 Honda CRFX bike in defending his 2012 title and new record.
Another defending champion and all-time division record setter will be part of the Pikes Peak Vintage division this year. Marc LaNoue (Houston, TX) will be aboard his 1971 Triumph Champion bike as he attempts tp crack his own course record in the popular division.
2012 champion Steve Tutt (Platte City, MO), will defend his title in the Quad Modified field on a 2006 Honda TRX bike. He was another racer who set an all-time division record on the fully-paved course with his winning time of 11:40.521.
John-Thomas Wood (Adelanto, CA), will bring his 1996 Windle Suzuki bike to the Peak to defend his 2012 Side Car title, which included an all-time division record of 11:41.406. He also won the Side Car title in 2011 on the hill.
Get Tickets Now
Fans of the Pikes Peak International Hill Climb can purchase tickets now for the June 30, 2013 race and assure themselves a spot on the Peak for what promises to be the best in the event's long and storied history.
General admission seats are priced at $40.00 each, and the popular Family Four-Pack is priced at $135.00 when purchased in advance.
Tickets may be purchased on the PPIHC official website: www.ppihc.com
Camping permits, sold on a first-come, first-served basis, are available at $100.00 each.
(Note, PPIHC policy for the Family Four-Pack mandates that all four people must be in one vehicle on race day and each occupant in a vehicle with a camping permit must also have a race ticket.)
Race tickets are required for anyone 10 years of age and older.