Belgian team Sarolea Racing to enter in 2014 Isle of Man SES TT Zero.
Isle of Man press release: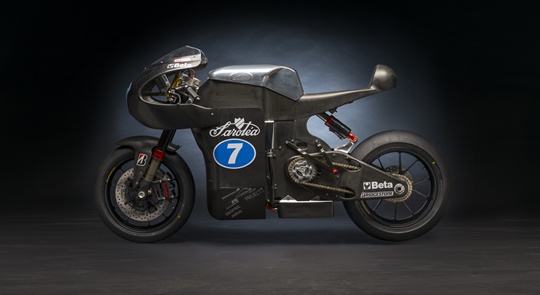 Tuesday, 29. Apr. 2014
Belgian Clean Emissions bike team Saroléa Racing confirmed for 2014 SES TT Zero Race
- Scotland's Robert Wilson will represent Belgian outfit

Belgian clean emissions racing team Saroléa Racing has today confirmed that they will participate in the 2014 SES TT Zero Challenge. Scotland's Robert Wilson, who made his TT debut in 2011, will represent the team at the 2014 Isle of Man TT Races fuelled by Monster Energy.

The historic Motorcycle brand, which will also compete in the FIM eRoad-Racing World Cup, was Belgium's first Motorcycle brand when it was established in 1850. The team has always put a strong emphasis on racing to advance its technology, a tradition that has continued with the 2014 Saroléa SP7.

Designed and built in Belgium, the SP7 motorcycle showcases the company's latest developments in technology. The bike is built up around the innovative carbon fibre monotube chassis and its ultra efficient axial flux motor.

During the design process the focus was on achieving a high power to weight ratio and on aerodynamic efficiency. Extensive use of carbon fibre and lightweight alloys helped reduce the overall weight. The result is a very compact and agile motorcycle.
Along with technical partners Bridgestone and Beta Tools, the team will focus on collecting data to further develop the bike.
Scotsman Wilson has recorded five top twenty finishes in his three year career including a highest placed thirteenth in the 2012 Monster Energy Supersport Race. Belgian Thijs De Ridder, developer of the electric powertrain, will race for the team in the eRoadRacing World Cup and will also support the team at the TT Races.

Project Manager Torsten Robbens will lead the Saroléa Racing campaign. Under his guidance, the SP7 will undergo extensive track testing, prior to its race debut.

He commented:

"The Isle of Man TT is the most prestigious motorcycle race in the world. Its 37.73 Mile laps (approximately 60km) also make it the most challenging event for both rider and machine. The TT zero testing programme will focus on optimising the race strategy and aerodynamic efficiency. The combination of the TT Zero challenge and the FIM world cup represents a really ambitious racing programme for us."
Back to Isle of Man TT Zero Main Page
Back to Electric Racing News Home