Official press release: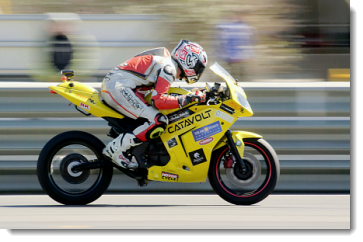 Catavolt Takes The eFXC/TTXGP 2012 Championship By The Narrowest Of Margins In A Count-Back
2nd September 2012
Grant Cresswell, eFXC
Sunday saw another cool but beautiful start to the day, the two teams had been busy working out how they could squeeze every bit of power and longevity from their machines in the final race of the eFXC/TTXGP Australian season.

Catavolt's Jason Morris, having been mauled on the finishing line yesterday by Daniel Ripperton, was very committed to putting everything on the line to take the win and the eFXC/TTXGP Championship. The team ended up replacing the cooling delivery system and pushing the maximum temperature threshold of the motor to the limit.

Daniel Ripperton desperate to wring every bit of energy from his R1's LiPo's batteries, called on Jason Ware to reconfigure the Batrium BMS in an effort to give him the best chance of keeping up with the rear hub drive Catavolt.

Qualifying saw only Jason Morris out on the track, Ripperton choosing to conserve every bit of charge andstay in the pits. Morris was clearly on a mission, having set the current qualifying record yesterday at 1:15.372, come out and on the third and final lap set a blistering 1:14.058.

At race start Catavolt's extra power delivery from a standing start was apparent, allowing Morris to pull a 1.5 second lead by turn 1, the Ripperton machine once up to speed was desperately trying to match Morris's pace but by the end of lap one was 3.1 seconds behind.

Come the second lap, Morris pushed his Catavolt mount to its limit and produced a lap record of 1:14.068. For next 3 laps Morris continued to produce sub 1:15 laps, pushing his lead over the Ripperton machine to 13.544 seconds by the finishing line. Equal overall championship points with Daniel Ripperton, forced a count-back, Morris taking the championship by the narrowest of margins, because of winning the last race.

It wasn't that Daniels Rippterton's machine had gone slower, in fact he was faster than he had ever been, but by Catavolt pushing the boundaries of the rear hub EnerTrac motor they had produced an outstanding win.

Jason Morris commented, "I was just thinking before we went out, the first year we decreased our lap times by 10 seconds in a year, this year we have improved it by over 5 seconds, we created a new pole record yesterday and we just trounced the racing lap record today."


Daniel Ripperton's season has been one of amazing developments and with the points score locked together prior to this round it could have been either of the two combatants to take the win, Daniel commented, "We are leading the way with this technology, we are pioneering and could write an encyclopaedia on what we have learnt about electric racing in these past two years. Its' as much fun build these bikes as racing them and I am fortunate to have done both"

The 2013 season is already shaping up with exciting possibilities, Mark Arnold will have his Yamaha R6 Anthony Nicholls built machine ready, Dr Chris Jones who was part of the 2011 season is building a Catavolt destroyer and there are at least 3 other bikes being built to compete.



2012 YMF LOAN YAMAHA AUSTRALIAN FX-SUPERBIKE CHAMPIONSHIP
ROUND 4 - WAKEFIELD PARK
SEPTEMBER 1 & 2
eFXC

AUSTRALIAN eFXC CHAMPIONSHIP

PROVISIONAL SERIES POINTS
Rnd 1

Rnd 2

Rnd 3

Rnd 3

Pos

No

Name

W/field

Qld R/w

Race 1

Race 2

Total

1

1

Jason MORRIS (NSW)

47

47

22

25

141

2

46

Daniel SAILER (NSW)

47

47

25

22

141
| | |
| --- | --- |
| Chief Time Keeper: Scott Laing | Clerk of Course: Terry Wahlen |
Copyright Computime Race Timing Systems Pty Ltd
Return to TTXGP standings