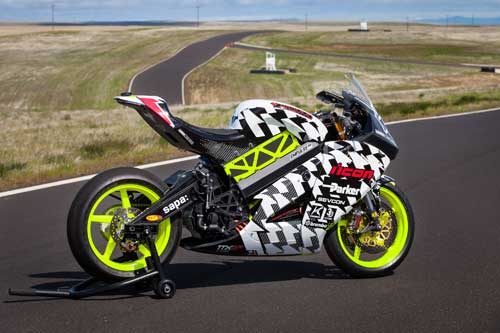 NEWS RELEASE
Contacts:
Adrian G Stewart
Brammo Inc
astewart@brammo.com

- For Immediate Release -
Brammo Announces - Team Icon Brammo - for 2012 TTXGP Season
Ashland, OR (May 4, 2012) – Brammo Inc. is excited to announce that Icon will be its main sponsor for the 2012 race season. With 2011 National Champion Steve Atlas returning for another season, Team Icon Brammo will start its 2012 campaign this weekend, May 4-6, at Infineon Raceway in Sonoma, Calif.
Since coming on the racing scene in 2009 at the iconic Isle of Man TT race, Brammo has shown a passion for developing a competitive electric motorcycle. After several years of hard work, Atlas brought Brammo its first professional championship on the 2011 Brammo Empulse RR.
"Icon is a company that loves to see others striving to be different and the TTXGP is just that," said Kurt Walter, Icon's brand manager. "We felt that Brammo Racing had the whole package, with a great company, staff and rider, which made for an easy decision to sponsor their efforts."
Team Icon Brammo is set to compete in the four regular season races, in addition to the TTXGP World Final in Daytona Beach, Fla., October 19-21, at the legendary Daytona International Speedway. Throughout the season, the team will run an Icon-inspired color scheme that will be featured on the bike, helmet, and rider leathers. Atlas' Icon race gear will include a new model helmet scheduled to debut with Icon's 2012 fall collection and a race suit that is derived from the Icon Overlord collection. While the suit is not available to the public, the research and development from Atlas and other riders has helped produce a track-tested Overlord two-piece suit, currently offered by Icon.
"Not only is Icon's involvement important for Brammo, it's also important for the sport of electric motorcycle racing.", said Brian Wismann, Manager for Team Icon Brammo. "Here is a brand that is known for being innovative and different, stepping up to support an entirely new genre in the motorcycle world - electrics. Last year was a huge milestone with Steve bringing home our first TTXGP championship and we're excited to have the opportunity to defend that championship with a great partner in Icon Motosports. With the bike's distinctive design, you'll be hard pressed to miss Team Icon Brammo on the track this year"
For more information on Team Icon Brammo, visit www.brammo.com/racing. For information on Icon's extensive line of products, visit www.rideicon.com.
Back to TTXGP
Back to Electric Racing News Home