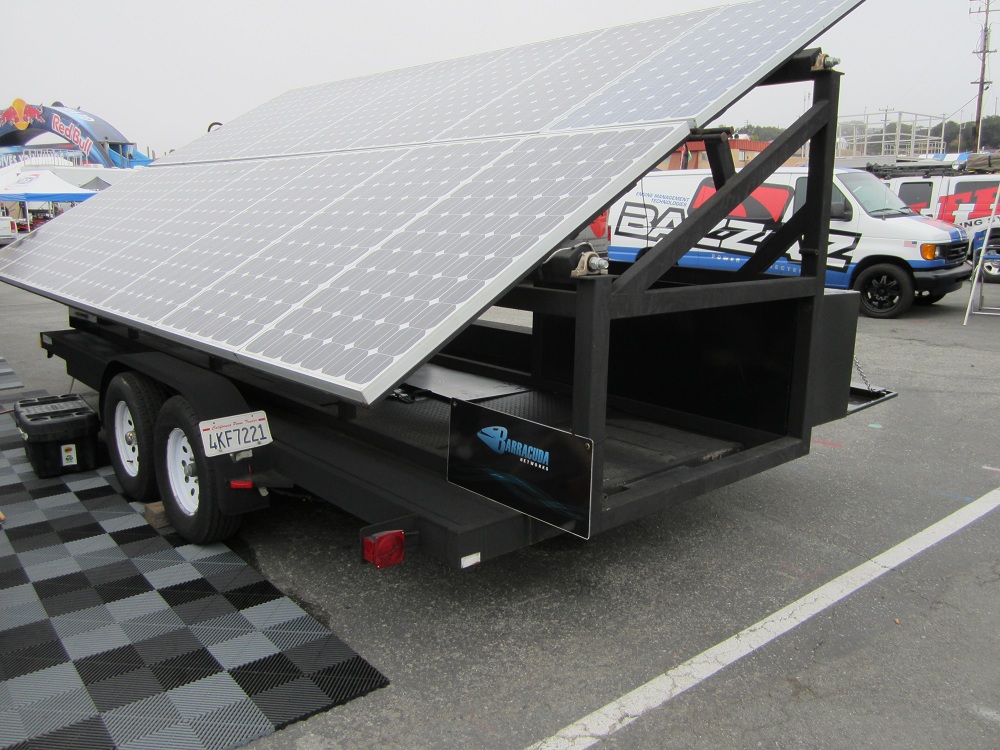 Lightning Motorcycles with their new sponsor Barracuda Networks. The bikes were charged via this solar panel.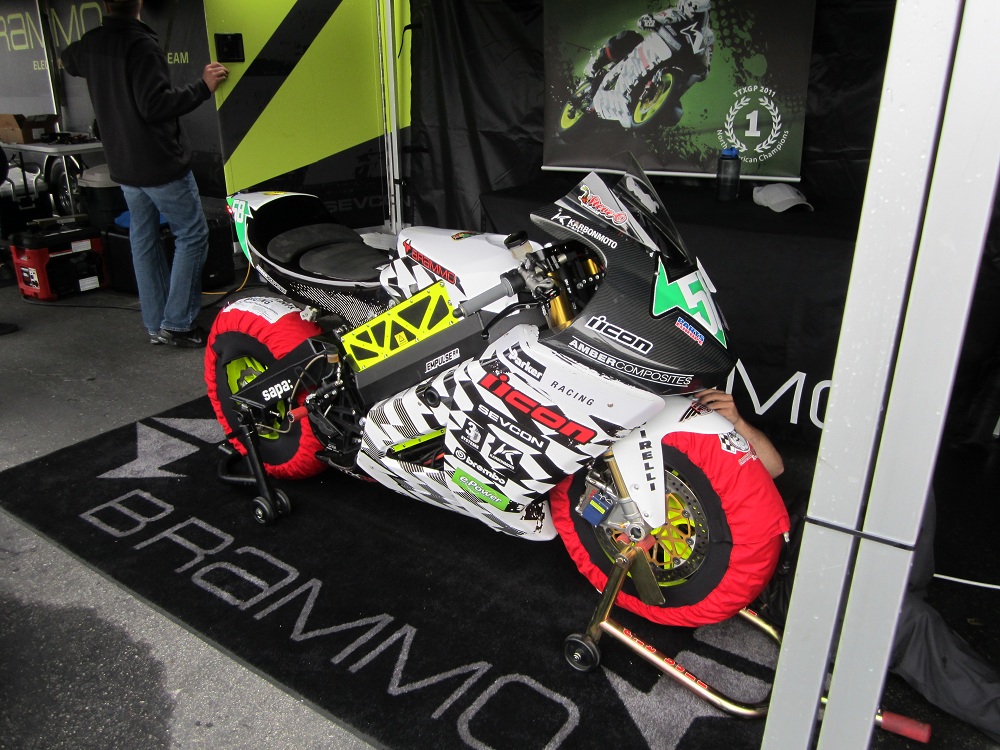 Steve Atlas' Icon Brammo motorcycle took second. Muench Racing brought their TTE from Germany.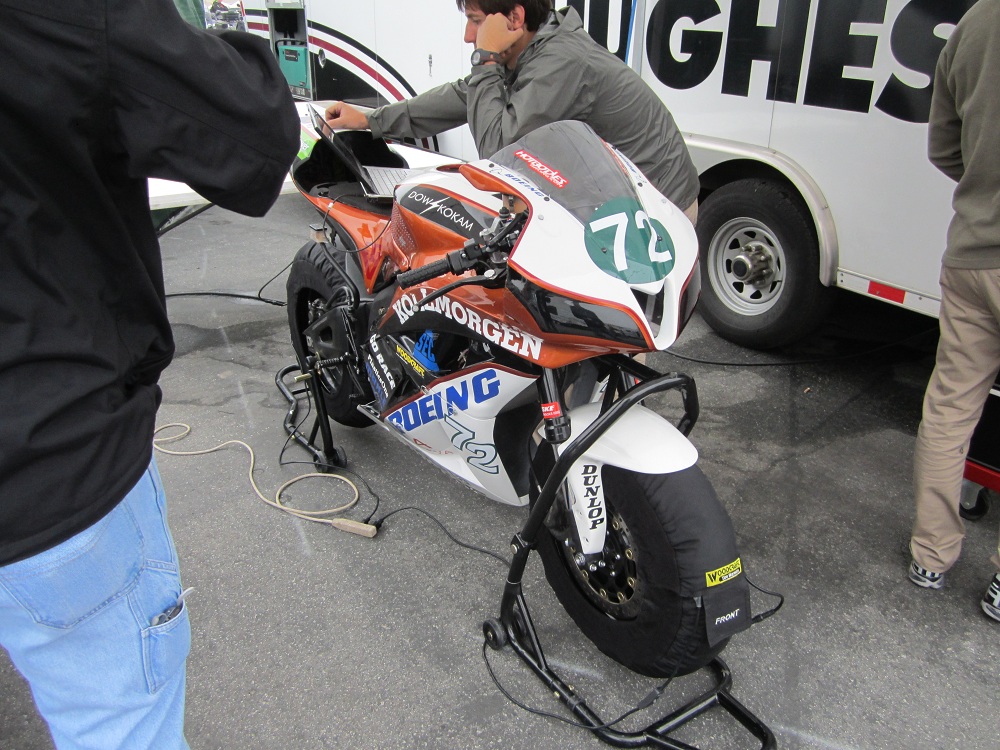 The Virginia Tech Honda CBRE
Zero motorcycles, which are almost stock.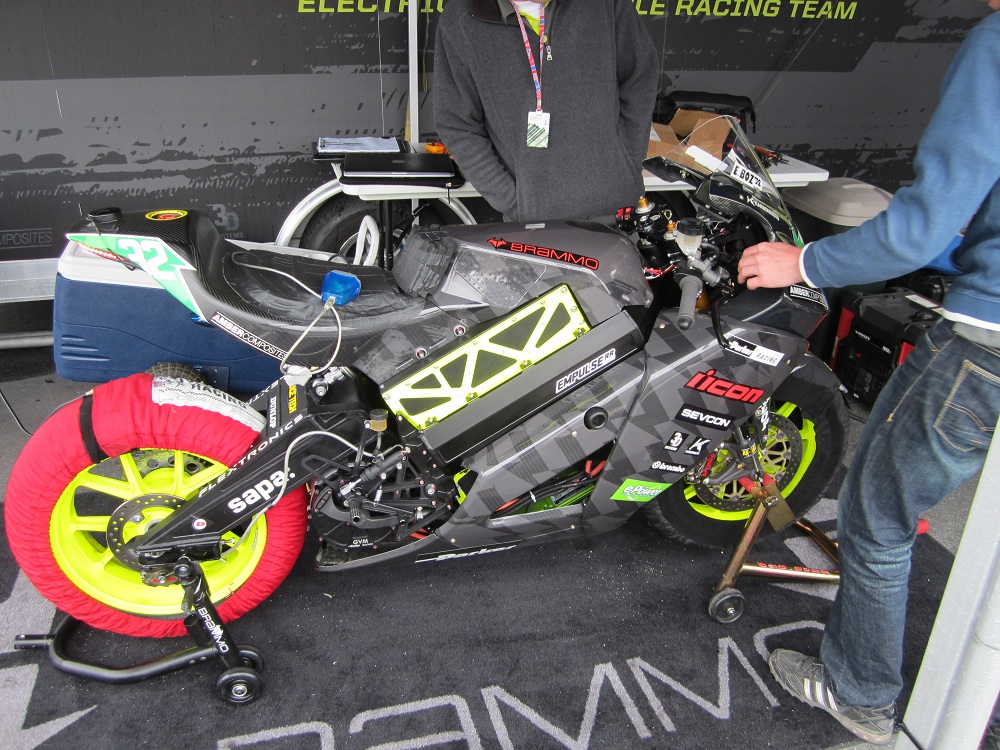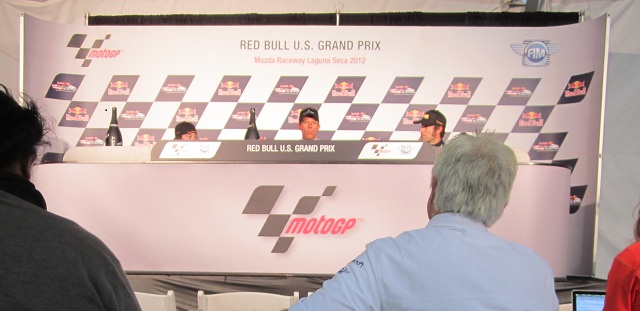 Brammo added a second bike to the team and signed Eric Bostrom to ride it. Steve Atlas, Michael Barnes, and Eric Bostrom.
Sunday Race Results:
Official TTXGP Press Release:
Fog may have delayed the race by a few hours but it didn't put a dampener on the mood along the pitwall at this seasons only TTXGP North American joint round with FIM epower. The weekend delivered a thrilling race at arguably one of the most technical and mythical courses on the planet.
Michael Barnes on the Barracudea Lightning Machine; fully charged with electricty generated by the solar panels thanks to the new sponsor Barracuda Networks, had a fantastic start storming into the lead from the get go. He was clearly a man on a mission, out to wipe out the memory of the previous two outtings at the track where he had been pipped at the post by rival Michael Czsyz. The plan worked and he delivered an incredible performace banishing the consistency issues faced by the team in the opening round of the season.

Taken from the post race press conference... Interviews with winning TTX75 rider Robert Hancock and eSuperstock winner Kenyon Kluge will follow shortly.
1 - Michael Barnes, USA (Barracuda/Lightning) – 14'32.060

Compared to last year the race speeds closer to the practice times?
"We were not about to lose this one, we have worked hard on the Barracuda Lightning l bike to hold enough energy for the whole race, I can't thank my guys enough for all the development work they have done on the bike my team have worked very hard to give me a great bike this year and the support we have gotten from Barracuda Networks has really helped. From 2 years ago we have improved 12 seconds 4 second quicker than last year. That speaks for its self. Richard Hatfield has put in his heart and soul and I can't thank him enough hopefully it will pay off for all of us soon."



I was looking at the top speeds during the race and did i see 144 MPH hour...


140 mph was hit in qualifying which is faster than any 600's out here. The bike does feel more like a
1000 as far as the torque is concerned....the sky's the limit with electric power, we will eclipse something soon. I don't when or how but we are going to make our mark with the electric industry that's for sure.

What's the next step racing wise?
"A bit more parity with more motorcycles so we can have a better show. This wasn't as much of a runaway as is has been in the past. I also manage my power a bit better; it's a real temptation; but to just be on the throttle and go as fast as you can all the time is not a winning strategy. We are hoping with advances in battery technology, we will achieve the next step, lighter packs that hold more energy so before long we will be in the super bike distance races..."


2. Steve Atlas, USA (Team Icon Brammo) – 14'34.963

Compared to qualifying times you were putting some really fast times in the actual race?
"Yeah, I only got to one lap in qualifying due to 15c resistor part in the bike not working. And I only did 3 laps in the first practice so the race was all new for me as I didn't get much track time before hand. for first few laps, I stuck behind Eric as though he is on the same bike I am on so I should be able to do what he can do but unfortunately he had some trouble and I just feel in the groove and I was surprised by how quick we were going but my team Icon Brammo did a great job and worked really hard to prep two bikes for this weekend with the bike a huge improvement over last year. Probably 7 or 8 seconds faster than last year. It was fun out there trying to keep Barney in sight. It was cool to not have a huge runaway as there was in the past and it is really cool to have a new team mate in Eric and i am excited for the rest of the year. Once the battery technology catches up we will give the gas bikes a run for their money.

3 - Eric Bostrom, USA (Team Icon Brammo) – 14'44.858

You've ridden many bikes, in many different classes, and here you are in an epower race. It's an interesting concept. What do you have to say about it?

"I only rode the bike a week ago and I said to the team if I don't like it I am out. But just pulling out of the pits and coming out of the race track, it put a big smile on my face and surpassed all my expectations; I am still coming up to speed on how to ride the bike and it may have caught me out a little bit. With Barney setting a blistering pace it was cool to see the other Brammo up there and my team mate Steve pushing me to go faster. The biggest disappointment for me was not being able to keep Barney honest and push him to the end."

"The feel is the similar to a normal motorcycle. We have teething problems with a new motorcycle that's all it is. I am sure if asked somebody like Kenny Roberts then he would say the same thing about a gas bike that is at this stage of development."

Do you miss the noise? It must be very strange for you to ride without the noise?
It is strange, but you feel like more than ever that you are in your own little world, the sensation of not having engine rpm to gage what you should be doing so there is a feeling of 'oh man they have taken away some of sensations' but on the flip slide you have more sensation and more feedback from the asphalt so you are getting better feedback to i can actually hear and feel the rotors on the bike.

Pos

Rider

Nation

Team

Motorcycle

Total Time

Km/h

Gap

1

80

Michael BARNES

USA

Barracuda/Lightning

LIGHTNING

14'32.060

134.123

2

58

Steve ATLAS

USA

Team Icon Brammo

2012 EMPULSE RR

14'34.963

133.678

2.903

3

32

Eric BOSTROM

USA

Team Icon Brammo

2012 EMPULSE RR

14'44.858

132.183

12.798

4

49

Matthias HIMMELMANN

GER Münch Racing TTE

MÜNCH TTE

14'48.385

131.659

16.325

5

89

Tom MONTANO

USA

Barracuda/Lightning

LIGHTNING

15'33.042

125.357

1'00.982

6

65

Katja POENSGEN

GER Münch Racing TTE

MÜNCH TTE

14'56.804

115.931

1 lap

7

72

Robert HANCOCK

USA

Virginia Tech

HONDA CBRE

15'48.618

109.599

1 lap

8

96

Kenyon KLUGE

USA

K Squared Racing

ZERO

16'35.131

104.476

1 lap

9

11

Ted RICH

USA

Zero Motorcycles

ZERO

16'35.474

104.44

1 lap

10

64

Jeremiah JOHNSON

USA

BE:EV.com

BE.EV.COM - LELI

14'43.477

102.97

2 laps

Not Classified

---

18

Ely SCHLESS

USA

Promoto

HONDA RSE

13'54.208

109.051

2 laps

---

Race condition: Dry

Pole Position:

Michael BARNES

1'33.860

138.461 Km/h

Air: 14°

Fastest Lap:

Lap 7

Michael BARNES

1'35.319

136.342 Km/h

Humidity: 86%

Circuit Record Lap:

2011

Steve RAPP

1'33.194

139.451 Km/h

Ground: 18°

Circuit Best Lap:

2011

Steve RAPP

1'31.376

142.225 Km/h

12:15'00

SIGHTING LAP START

12:23'00

WARM UP LAP START

12:26'22

RACE START
2012 TTXGP Standings
2012 FIM e-Power Standings
Saturday Qualifying Results:

AMA favorite and star rider Eric Bostrom (Team Icon Brammo) divides team Barracuda Lightning riders Michael Barnes and Tom Montano on the challenging Californian Mazda Raceway Laguna Seca circuit. Matthias Himmelmann was the first rider to set a time under 1.40 mark, quickly followed by Michael Barnes who set his fastest time on the third lap out. Tom Montano and Eric Bostrom joined them and set the tone for the qualifying session.
1 - Michael Barnes, USA (Barracuda/Lightning) – 1'33.860
"I know both the Lightning SB2 and I have it in us to beat the lap record, I want to win the race tomorrow but i also want to prove that my team has come a long way and we are not to be ignored. This year we come with a major new sponsor with Barracuda Networks providing the electricity needed from solar panels to power my Barracuda Lightning team superbike making it truly clean energy. We are excited to be out proving speed can be achieved in a sustainable way."

2 - Eric Bostrom, USA (Team Icon Brammo) – 1'37.171
"Michael Barnes set the bar really very high and I am absolutely certain we can get there too. We had a little bit of a shaky start and it was nice to see that in spite the lack of track time we were able to get at least within striking distance. Tonight we are going to do a few tweaks and make the bike a little better and hopefully bridge that gap and I think it is going to be a darn good race tomorrow."

4 - Matthias Himmelmann, GER (Münch Racing TTE) – 1'38.951
"All the work we did with the suspension worked fantastic and the result were brilliant. I am very happy going 6 seconds faster today and hope to shave off some more tomorrow."

6 – Katja Poensgen (GER) (Münch Racing TTE) – 1'48.587
"During the second practice I was able to improve my lap time by 4.8'. I feel more comfortable and confident and I found out that I need a lot of courage to keep the throttle open past start and finish and over the hill which is a blind corner. I can still ride a little faster tomorrow. I am happy for Matthias who also improve his lap time by 5.2' and very close to Tom Montano who qualified 3rd."

Oriol Gallemi FIM e-Power International Championship Technical Director
"This year lap times improved for the top six riders from however the circuit record from Steve Rapp in 2011 with a time of 1'33.194 remains intact. On the technical side, we don't have any motorcycle any longer equipped with direct current (DC) type motor, this because of the overheating problems which the teams faced in previous years. The batteries are more compact this year and evacuate the heat much faster than before. This is the first year where all machines are fitted with thermal sensors in all components, meaning the controller, the battery pack and the motor, a big improvement safety wise. The teams still have plenty of work to do on aerodynamics and we are confident that they will enhance the overall efficiency in the years to come."

Kenyon Kluge (K Squared Racing) said "We worked on our setting and find a fee items to get some more power for tomorrow's race. All Zero Riders are close together so it will be an interesting and fun battle."
Jeremiah Johnson (BE.EV.com) having experienced technical issues on his machine was fortunate to be offered a Zero S motorcycle for the qualifying session.
Robert Hancock (Virginia Tech) although he did not qualify today, his practice time set on Friday allowed him to be on the grid. His team was able to fix a short in the wire loom between the controller and the motor but was only able to join the other during the last two minutes of the qualifying session."
Tomorrow the e-Power/TTX race (9 laps) will start at 10.25am.

Friday Open Practice Results:

TTXGP Press Release:

The third round of this years championship is a joint round with FIM ePower held at the world famous Mazda Raceway Laguna Seca during the US Grand Prix. Today saw the first practice of the weekend with newcomers to the grid Tom Montano (no. 89 for Barracuda Lightning) and Eric Bostrom (no. 32 racing for Team Icon Brammo), the weekend racing should be exciting.
It has been a spectacular day with high and lows for the teams. After the rain during round two at PIR the Californian sunshine was a welcome change for the TTXGP North American racers joined on the grid this race by their European cousins from FIM ePower, no. 49 Matthias Himmelman and 65 Katje Poensgen.

With 11 riders entered for this year's event, Kenyon Kluge (Zero/K Squared Racing) and Ted Rich opened with their production based motorcycles.

The best time (1'35.024) was set by Michael Barnes (Barracuda/Lightning) with a top speed of 219,7km/h. Second fastest was Steve Atlas (Team Icon Brammo) followed by Tom Montano on the second Lightning.
After the free practice session the riders gave us their following impressions:

Michael Barnes: "We were a little behind the eight ball today and went out on a bike that was not as good as I know it should be. We didn't have a chance to put tyre warmers on so the bike was cold, and improvements need to be made with the suspension and geometry wise. Having said that there were definitive improvements to the bikes handling since Infineon our speed is strong as it always has been and the handling is getting each time better when we are out on the track. My goal this weekend was to beat Rapps' qualifying time from last year as I know the bike is capable. We are close today in the free practice and hope to close the gap in tomorrow's Qualifier but I am not sure we will have that magic set up that we are working toward."

Brian Wiseman, Brammo's Director of product development: "After a brilliant effort by team Icon Brammo to get a two bike team to Laguna, we were met with a good start on bike 58 (Steve Atlas) and a perplexing problem on Bike 32 (Eric Bostrom.) Although the bike ran great in testing, it seemed determined to run in reverse ahead of the first practice. The problem is currently being diagnosed and resolved, but unfortunately we were not able to get the use resolved in time to allow Eric to get out of the first practice session."

Following the practice session the team solved the simple technical glitch and is now confident for tomorrow qualifying session.

Matthias Himmelman: "We are excited to be back here at Laguna with many new developments from last year. The bike is almost completely new and we are still working on getting the right set up and could probably do with another two months to work on it. The suspension really needs work as is currently too low and we have a new swing arm that has not been calibrated properly. I am very happy with the motor however as it is working so much better than any we have used before. In fact, it is working so well that we have agreed to distribute Wittenstein Motors to help others have access to such great technology. I am of course disappointed with my time today but I know I have a better result waiting for me tomorrow."
Katja Poensgen: "Today everything for me was about getting to know the track. There are many blind corners; this track is not an easy track to learn so it can be scary the first time out. I have been working on growing myself confidence and to trust in my own ability. I finished the session a little early as the bike was getting hot and rather than risk overheating I wanted to make sure that the settings were correct. It is great to be on the track with so many American teams, I think it is going to be a fun race. I am sure tomorrow will see a better performance from me, this is what we come racing for; to always go out and do better."

Robert Hancock: "I have to say it was amazing being out there today my first time at Laguna Seca and the first time I have ever ridden an electric bike make this a very special day for me. One thing I did notice was that without engine breaking the bike just falls into the corners much quicker than I expected which scared me a little first time but once I got used to it, the experience was awesome. I know I go quicker, today was to get to know the bike as well as the track."

Kenyon Kluge: "First practice was a solid session for the zeros as it has been all season long for us. Both the Zero's ran perfectly from the beginning to the end of the session with no surprises. Ted and I were practicing race configuration to try and get the best times for both of us so that tomorrow we can put in the best possible qualifying time. We are really confident that we will be able to cover the full race distance without any trouble. Ted and I had a little fun running back and forth throughout the race and passing each other figuring out how to get around Laguna as fast as we can!"
Qualifying practice is scheduled tomorrow Saturday at 17:10 (30mn).



| | | | | | |
| --- | --- | --- | --- | --- | --- |
| no | rider | team | time | gap | top Speed (km) |
| 80 | Michael Barnes | Barracuda/Lightning | 1'35.024 | | 219.7 |
| 58 | Steve Atlas | Team Icon Brammo | 1'39.233 | 4.209 4.209 | 197.0 |
| 89 | Tom Montano | Barracuda/Lightning | 1'43.144 | 8.120 3.911 | 193.3 |
| 49 | Matthias Himmelmann | Muench Racing | 1'44.211 | 9.187 1.067 | 199.3 |
| 65 | Katje Poensgen | Muench Racing | 1'53.453 | 18.429 9.242 | 165.4 |
| 72 | Robert Hancock | Virgina Tech Bolt | 2'01.000 | 25.976 7.547 | 140.0 |
| 11 | Ted Rich | Zero Motorcycles | 2'03.928 | 28.904 2.928 | 119.8 |
| 96 | Kenyon Kluge | K2 racing | 2'04.064 | 29.040 0.136 | 124.9 |
| 18 | Ely Schless | ProtoMoto | DNS | | |
| 32 | Eric Bostrom | Team Icon Brammo | DNS | | |

Circuit Record: Steve Rapp Mission Motors 1'33.194
Circuit Best Lap: Steve Rapp Mission Motors 1'31.376 (in qualifying)

Race Schedule for July 28, 2012 joint FIM e-Power/TTXGP race at Mazda Raceway Laguna Seca:

Friday: 1:30 pm - 2:00 pm Open Practice
Saturday: 5:10 pm - 5:40 pm Qualifying
Sunday: 10:25 am Final Race (9 Laps)

Press Releases:
7/26/2012 Team Icon Brammo to add Eric Bostrom to roster. Read presss release
HERE
.
7/26/2012 Muench Racing Team to enter two motorcycles in the 2012 FIM e-Power/TTXGP race at Laguna Seca.
Read press release
HERE
.
2012 TTXGP Standings
2012 FIM e-Power Standings