Drayson Racing Technologies becomse the firs official FIA Formula E team. Here is the official press release:
Drayson Racing Technologies LLP (DRT), the pioneering low-carbon motorsport R&D business, announced today that the Drayson Racing Formula E Team is the first Official Team Entrant in the new global FIA Formula E Championship.
The Oxfordshire, UK-based outfit is the first team to commit to the zero-emissions series and will run in the inaugural season of the Championship in 2014, featuring cars racing on city street circuits powered exclusively by renewable electric energy. Drayson will field a two driver attack and is already talking to a number of the world's leading racing drivers about seats with the team. During 2013, it will work with Spark and Formula E Holdings to test the Formula E customer car and to promote the championship around the world in the 10 host cities planned for the first season.
Drayson Racing will run the new Formula E customer racing car in 2014 which will be supplied by the promoter Formula E Holdings and is currently being developed by Spark and McLaren.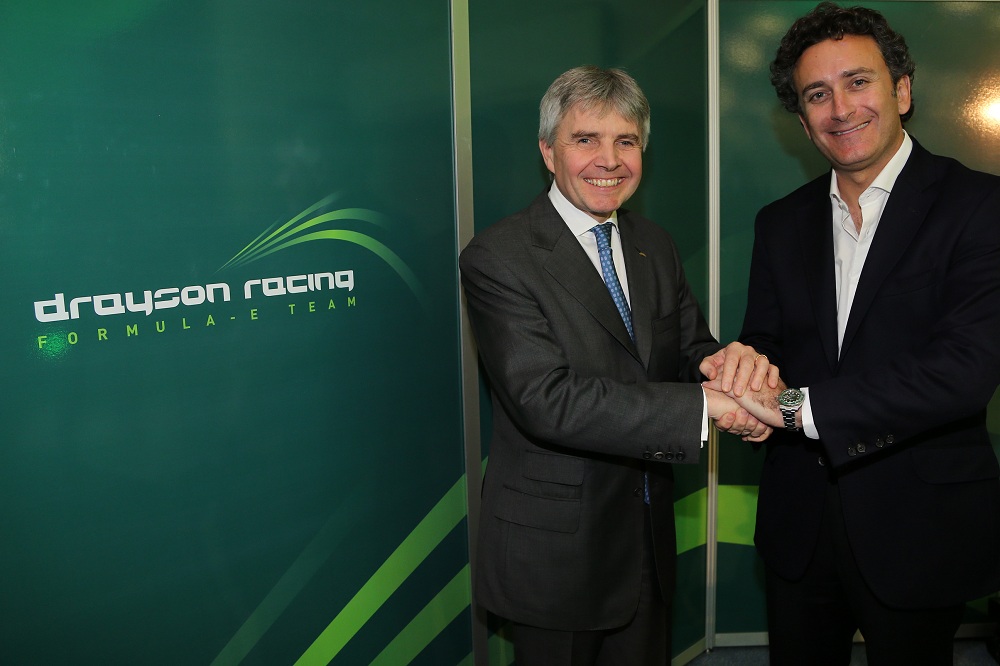 From 2015, the team plans to be a constructor in its own right fielding a new drivetrain developed from the advanced DRT 4X2-640 electric system featured in the Lola-Drayson B12/69EV car that set a new electric record last summer at the Goodwood Festival of Speed.
The team is a wholly owned subsidiary of Drayson Racing Technologies which has been pioneering green racing initiatives since 2007 and has been acting as Scientific Adviser to the FIA Formula E Championship during its establishment over the past few months.
Lord Drayson, Team Principal of Drayson Racing commented: "We are hugely excited about the prospect of competing in the opening season of FIA Formula E. We aim to be one of the front runners from the start, leveraging the knowhow we've built up over the past two years working on electric drivetrains and developing our 200 mph electric Le Mans prototype. We believe that FIA Formula E has very significant commercial potential, it will attract new fans and new sponsors to motorsport and is on track to become the world's leading environmentally sustainable global sporting event."
Alejandro Agag, Chief Executive Officer of FEH, said: "Today is a very special day for the FIA Formula E Championship. Announcing Drayson Formula E team as the first of the 10 teams proposed to take part in the competition is a very important step in the creation of the first sustainable global motor sport Championship.
"Having a team like Drayson join our ranks, gives the FIA Formula E a true electric racing DNA, as the British company represents, like no other, the passion for research and technology in the field of green motor sport.
"Lord Drayson is a true pioneer in electric racing, and our championship identifies completely with his goals and his ambitions. We look forward to see the Drayson Formula E Team racing in the heart of great cities around the world, first with the Spark customer car, and then with his own technology, that will contribute to the advance of electric cars in our cities."