FIA February 25, 2014 press release: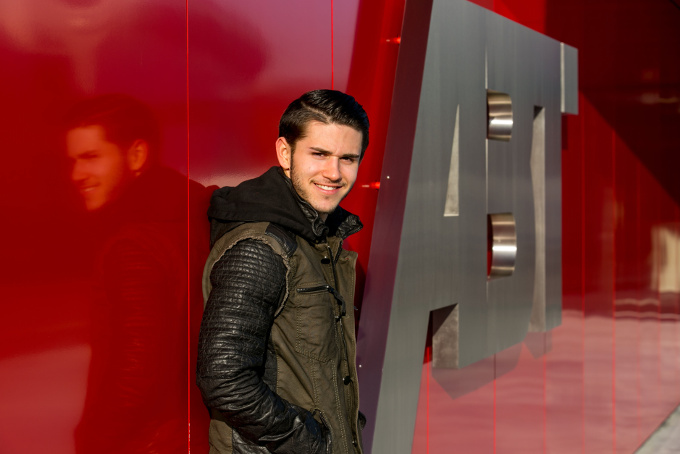 Daniel Abt Q&A: "Street circuits aren't forgiving and any mistake will be punished"
Kempten|25 Feb 14
Following the confirmation of Formula E's first driver line-up, there has been a lot of attention on Daniel Abt. The German, who will drive for Audi Sport ABT, is excited about the new format and says he will relish the challenge of navigating through the city streets. We had a chat with Daniel to get his thoughts on the year ahead.

Daniel, firstly welcome to Formula E. You were recently announced as one of the drivers for the Audi Sport ABT team alongside Lucas di Grassi. What has been the reaction to that and what attracted you to the series?
Thank you! The reaction has been really positive. Of course there are some sceptical people but almost everyone I know is looking forward to watching this brand new series. I have kept a close eye on the series from the beginning because it is totally different to any other championship at the moment. The potential of Formula E is huge and I am still a young driver so I'm more than happy to be a part of it.
You've no doubt seen the Spark-Renault SRT_01E Formula E car – what are your first impressions of it and also running on treaded tyres?
So far I've only seen pictures, videos and the show car. For me the car is one of the best looking formula cars at the moment. Of course it is hard for me to speak about the behaviour of the car or the tyres as I haven't experienced it yet. But it is a new challenge and I can't wait to get a first taste.

Formula E events take place on city-centre circuits with very little run-off. How difficult is it going to be to learn the tracks quickly and will you be worried about pushing too hard, too soon due to the lack of run off?
This will probably be the toughest part of the job. Street circuits aren't forgiving and any mistake will be punished but on the other hand you need to find the limit if you want to be quick. It will be important to be well prepared before each race and to make the most of the practice time available. The good thing is I have previous street circuit experience at Macau, Monaco and Singapore.

The 'Push-to-Pass' boost system is quite a radical concept in Formula E – what is your view of it from a driver's perspective?
At the moment it's hard for me to give a proper judgement but I like the idea of involving fans in racing. It will be even more important for the drivers to interact with the fans in order to help with the boosts! Though it is important that this element isn't the only deciding factor in the race but it will provide more action and I am sure that people will like it.

For 2014 you'll also be racing in GP2 – is it going to be difficult focusing on both series?
No, I think it should work fine. My GP2 season is almost over when Formula E starts so it shouldn't be a problem. I am still young and I want to race as much as possible. It also makes the winter break less boring so I'm happy.

Of course, every racing driver wants to win but do you think you have all the ingredients to do this in Formula E?
I believe I can win and that's what I'm here for. I've got a lot of experience with cars at a similar level to Formula E and I know how to race on street circuits. In GP2 we also have very little practice time so I am used to adapting quickly to new conditions. Of course there will be a lot of great drivers that I don't underestimate and everyone has the same challenge ahead. I feel well prepared and we will be there when it counts!

And finally, Lucas di Grassi will be your team-mate, how do you think you will work together?
For me it's perfect to have an experienced and talented team-mate. I can learn a lot from him and I'm sure we will work very well together. I don't really know him yet but from what I've heard he is a cool and smart guy. I am sure we will have fun together.


Back to FIA Formula main page
Back to Home