FIA March 27, 2014 press release: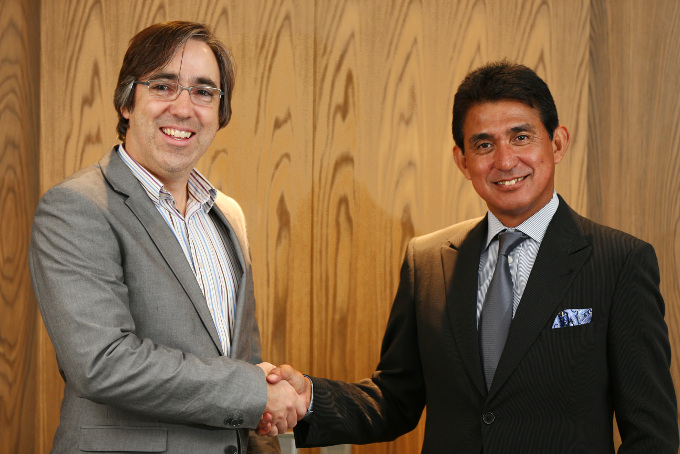 Super Aguri's Mark Preston: "Sato is on our shortlist"
Tokyo|27 Mar 14
Super Aguri is a name recognised by motorsport fans around the world, especially with a certain Japanese driver behind the wheel. The Tokyo-based outfit have a wealth of experience having previously competed in Formula One. But will there be a sense of déjà vu? Team Principal Mark Preston reveals that discussions are ongoing with Takuma Sato to race in Formula E this season...

Having worked at the highest level of motorsport in the past, what originally attracted you to Formula E?
Personally, I view it as the future of motorsport and it also represents a new challenge for myself to go racing again. The ability to work with new technologies and develop it to a point where it can have a significant impact on the automotive industry is something quite exciting and I really wanted to be a part of that.
From your perspective what are going to be some of the biggest challenges in the first season and how do you rate your chances?
One of the main challenges early on will be mastering the setup of the car to suit our drivers and managing its energy capabilities effectively throughout a race. With each team racing on level terms in the first season it really puts an emphasis on the talent of your drivers. I think our chances will hinge largely on how well we train them to use the new technology and how they perform over the 10 races.
What has been the reaction to Formula E in Japan? Do you think a race at a street venue in Japan would be popular?
We all know how passionate race fans are in Japan and we've seen already on social media that the reception of Super Aguri and Formula E has been overwhelmingly positive. I have no doubt that a street race in Japan would be an amazing event, in both a sporting and cultural sense, and I hope in the near future that our fans and team have a race on home soil.
I know you haven't yet got your hands on the Spark-Renault SRT-01E but what do you think of the car?
From what we've seen so far in terms of testing performance I've been quite impressed. The car looks to be hitting all of its performance targets and I think all those who have been involved in its development and production have done a tremendous job in putting it together.
Takuma Sato has added his name to the Formula E Drivers' Club, may we see him competing in some capacity?
Takuma and Super Aguri had a great relationship during our stint in Formula One and he is a great ambassador for Japanese motorsport. I can confirm we are in discussions with Takuma and his representatives about the possibility of him joining us in Formula E. Although as I've said before there are other factors to navigate such as budgets and Takuma's current IndyCar commitments.
Finally, do you have any news on other potential drivers? Will they be Japanese?
At the moment we are busy working behind the scenes to secure our drivers. We've had an influx of interest from all over the world and securing a Japanese driver is high on our list.
Back to FIA Formula main page
Back to Home